STEM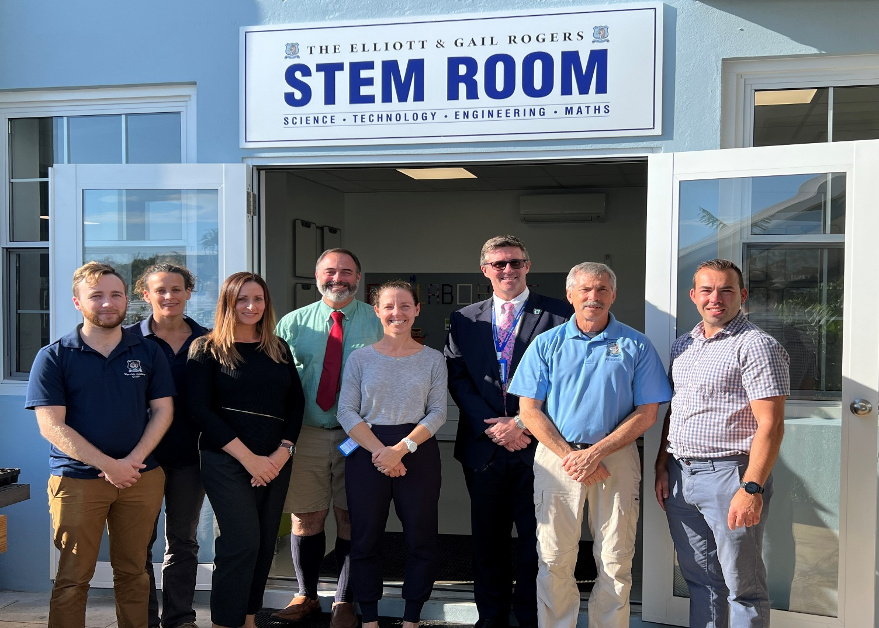 The Collaboratory Designers From left to Right. Ed Dawson, Roz Wingate, Kelly Reeves, Eric Totten, Jessica Young, Dave Horan, Gary McCullough (and Alan Walters who assisted on the opening)
What is STEM?
STEM education is a teaching approach that combines science, technology, engineering and math. It is designed to encourage discussions and problem-solving among students, developing both practical skills and appreciation for collaborations, according to the Institution for Art Integration and STEAM. Rather than teach the disciplines as separate and discrete subjects, STEM integrates them into a cohesive learning paradigm based on real-world applications. According to the U.S. Department of Education "In an ever-changing, increasingly complex world, it's more important than ever that our nation's youth are prepared to bring knowledge and skills to solve problems, make sense of information, and know how to gather and evaluate evidence to make decisions.
Why STEM?
STEM education is crucial to meet the needs of a changing world. According to an article from iD Tech (opens in new tab, millions of STEM jobs remain unfilled in the U.S., therefore efforts to fill this skill gap are of great importance. According to a report from the U.S. Bureau of Labor Statistics there is a projected growth of STEM-related occupations of 10.5% between 2020 and 2030 compared to 7.5% in non-STEM-related occupations. The median wage in 2020 was also higher in STEM occupations compared to non-STEM occupations
STEM Room design elements
---
Pervasive Transparency
Open spaces that spark interest and interaction can be created by locating benches and shelving off corridor walls and replacing the walls with glazing. This transparency unveils the work being done inside, keeps lab users energized by being able to see beyond their own projects, and enhances safety by providing a clear view of the lab. Pervasive transparency creates excitement about the activities happening within, for both STEM and non-STEM courses. It allows younger students to see what they will be doing later in their academic careers, and it allows potential students to get excited about attending that institution and courses they are undertaking.
What have we done to achieve this? We have opened up space at the front of the building to allow more entry of light, we have added more windows and have taken down walls to create a larger space with more flow. Glass dividers have been included to allow students and teachers to close off areas for smaller group work, whilst retaining transparency and illumination to all parts of the Collaboratory. The walls are bright, and the ceiling is painted darker to create a receding effect which makes the room appear even larger. Bright and inviting floor tiles will create vibrant colour 'pops' alongside bright and cheery furniture and seating. Futuristic handing hexagonal lighting gives the room further brightness. The geometrical shapes of hexagons were chosen as they are the strongest shape and mechanically and mathematically superior to other shapes! Their appearance is therefore evident widely in chemistry (benzene), biology (many sugars, honeycombs, cell walls) and physics alongside engineering equipment (think nuts and bolts).
Active Learning Classrooms
By letting students take ownership of how they learn best (student centred classrooms), active learning classrooms embrace new pedagogies in group learning and the power of students teaching each other. Flexible furniture allows students to arrange tables, whiteboards, monitors, and other equipment in the manner that best suits them. In our Collaboratory we have included movable furniture in all areas, and plenty of collaboration spaces and cosy corners to work in groups. This is a large space with plenty of room to have the flexibility for students to get up and go to a whiteboard, different type of work space or to work with a group of students/staff in a closed off or open area dependent on the size of the team.
What have we done to achieve this? All of the furniture and seating is moveable and interchangeable. There are different types of work desks and surfaces to fit with many student and staff preferences and working styles. Students work on stools, soft chairs, rocking seats and change the height and position of both the desks and seating furniture to suit their needs and comfort. The room is large and open, but can be divided and there are a few cozy corners at the front and back right side of the room. There are also a number of different ways students can work on problems within the room. They can use laptops, write on various white boards, windows, glass panels and dividers, some of the desks are even designed to be written on with erasable pens. Students will also have an extra locker area to store their bags on entry to keep the space uncluttered to enable a great working environment.
Flexible Labs
Flexible labs are designed to enable changes in teaching, research, and equipment needs over the life of a facility, by reducing barriers between bench activity and shared equipment. The purpose of this is to encourage multidisciplinary links between courses and to allow these to be taught in the same space. Wet services, such as sinks are located in alcoves at the back of the room—easily accessible yet away from where students spend most of their time. Whiteboard and writing space along the walls and room dividers is maximised, letting students gather around the tables and then move to the wall to collaborate. Tables can also be utilised for demonstration space or an area for shared equipment.
What have we done to achieve this? The room has sectors which are designed for robotics, computing and media, engineering/building, R.O.V, augmented and virtual reality. Students can move between areas or remain in an area which works with the idea they are working on. Students also have the option to pull up a comfortable chair and read, think, discuss or dream. Presentation or demonstration table are also available for staff or students which can be sitting or standing height. Pull down plugs will be hung from the ceilings to allow students to connect in a safer fashion wherever they are (no wires across the room).
Combined Teaching and Research Labs
Combining the teaching and research labs, which maximises space efficiency and an institution's investment. Pairing teaching labs adjacent to research labs allows research to flow into the teaching lab when classes are out of session. It also facilitates courses that may need to move from a teaching environment into a research environment as part of the curriculum or as a co-curricular option.
What have we done to achieve this? The Collaboratory is situated right next to the science block with easy access to six laboratories, three science preparatory rooms and computer sciences. An astronomy floor will also be opened in 2023/2024 nearby. At the entrance of the STEM room is a large patio area and outdoor classroom. Should students wish to conduct some of their work in the fresh air if it inspires them. The Collaboratory is also situated attached to a large working garden which incorporates permaculture practices, aquaponics and an entrepreneurial farmers market run by staff and students. Students who want to conduct research in science either individually or collectively (projects, group 4 project in IB, Individual Assessments (IA) in IB, science fair projects, group experiments etc) will have everything they need to conduct their work well.
Informal Learning Areas
Research shows that institutions of all types are increasing the amount of square footage dedicated to informal learning spaces. Recent programs dedicate as much as 12 percent of the building for these collaborative learning spaces. These spaces are extremely popular and fill quickly with both STEM and non-STEM students. The 12 percent trend is driven by the awareness that motivating students to stay and study in the STEM building increases learning outcomes. Five types of informal learning areas meet different needs in promoting collaboration and creating mentoring opportunities between students and faculty. These "asynchronous" spaces include a building commons, departmental commons, enclosed study, open study, and write-up.
The building commons often serve a multipurpose function for large gatherings, faculty events, fundraisers, and other social get-togethers. Daylight and views to the exterior are important in this area, which is typically the heart of the building and provides an initial impression to everyone who enters. Zones of spaces should be designated with soft seating along an exterior glazed wall to create quiet study areas and moveable tables and chairs situated in more active areas. Incorporating soft and warm materials, such as carpet and wood, creates an environment where individuals will want to come and stay.

The departmental commons are smaller areas that provide a home for students and faculty within a certain department. They often used for tutoring sessions.

Small enclosed study spaces are the most popular and are intended for student group work. They usually include tables and chairs, whiteboards, and sometimes, large monitors. The key to their success is smooth turnover, so a scheduling system is recommended.

Open study areas are usually small nooks off of, or at the end of, corridors. They serve as touchdown spaces with soft seating or tables and chairs. These spaces provide short-term relief for students waiting for a class or to meet with a professor, and they have a quicker turnover.

Write-up spaces are controlled spaces adjacent to wet research labs; they are used by students to leave their belongings and food before entering a lab. The spaces have desks or tables assigned to individuals in the lab, as well as a small teaming table, and whiteboard space. Because of the synergy created by adjacency to the lab, they are popular for faculty team meetings.
What have we done to achieve this? All staff and students can have the opportunity to use this room. The room will not be fixed to particular classes or teachers. It is a bookable space. People wanting to use the space can book via an application on their computer, and this will be monitored by an innovation coordinator who can also provide equipment or advise on advanced requests. The room can be used for teaching, meetings, think-tanks, problem solving, social groups, clubs, cross-curricular activities, research work and many other areas. We like to think of it like the room of requirement in the Harry Potter novels.
What equipment is available in the Collaboratory?
20 Oculus Virtual Reality Headsets (Science also has 6) so enough for a full class.
Augmented reality sandbox.
Vex IQ Robotics sets.
Sphero Robots
Biobuilder biotechnology and synthetic biology kits
Makey-Makey Kits
Lego wall
Media centre
Harry Potter Coding Wands
Kinderbotz
Code and Go Robot Mice
Squigz
Cubelets
Soldering Kits
Stekuworld blue building sets
3D printer and scanner – on order
Magnatiles
Genetic Engineering Kits
STEM electrical circuits kits
Arduino CTC go