Music
Our music department is a bustling and exhilarating place! With a diverse range of ensembles, bands, choirs, and groups, we offer something for students of all abilities.
Our mission is to cultivate the musical talents of any student with an interest in music. We strive to provide our students with ample opportunities to perform in front of an audience and experience live music. In addition to our regular concerts, students have the chance to attend music camps in the United States. We believe that music is not just a hobby, but a vital part of a well-rounded education, and we are committed to providing our students with the best possible musical education.
Primary Music
In Primary Music we aim to develop the child's entire being: personality, intellect and emotions. Children are given the opportunity to express themselves through singing, movement and instrumental playing. Opportunities to form links with other disciplines, to develop or strengthen a child's understanding of how learning is linked are abundant. The approaches we use are Orff-Schulwerk which is an approach developed by Carl Orff and Gunild Keetman in Germany in the early 20th century. You may wish to read more about this approach by clicking on this link, Orff Schulwerk Approach Another approach used in our instruction, the Kodaly method, attributed to Zoltan Kodaly of Hungary.
Kodály method
We use elements of both these philosophies to deliver the curriculum to our students in the Primary department from Reception to Y6.
Children will start with the development of their singing voice, what we refer to as their head voice, so they may develop the art of singing on pitch. The development of keeping a steady is also developed in the early years, Reception to Y2.
In Y3 we build on those skills with formal instruction on Boomwhackers, giving an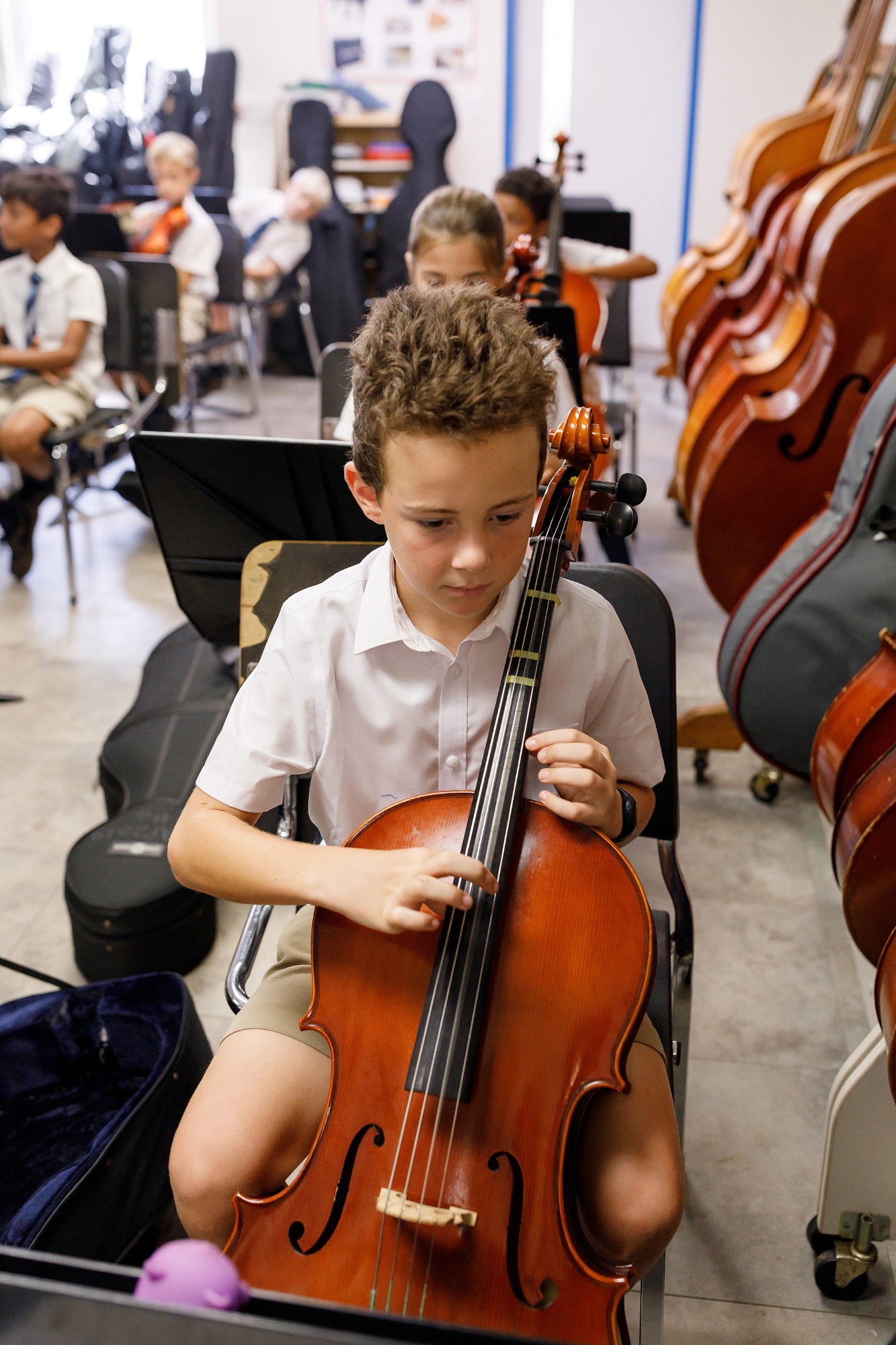 opportunity to transfer skills learnt before, to enable access of new concepts.
In Y4 singing in two parts is introduced, and this is continued through Y6. Starting in Y3 and continuing in Y4 and Y5 there is the opportunity for learning the violin, viola and cello via the Suzuki method with teachers from the Bermuda School of Music.
In Y5 all students have the opportunity to learn a stringed instrument; violin and cello and in Y6 we introduce them to the Orff ensemble of glockenspiels and xylophones. This approach seeks to provide children the opportunity to explore simple composing in music, using sources already present or new ideas from their community, through stories, rhymes and events.
Y6 meets once a week for music theory lessons to transition them for music in the Secondary school.
Primary Concerts & Events
Lower Primary Winter Production: This production is held the last Wednesday of Term 1. The first half is holiday songs sung by children from Reception to Y2. The Y3's do a combination of singing holiday songs and playing Boomwhackers. The Featured presentation is a mini-musical that involves children from Y1 to Y3.
Upper Primary Music Concert: This concert held the first Wednesday in March, features our Y4 Boomwhackers; Y4 Suzuki Strings; Y5 Beginner Strings; Y5 Advanced Strings; Y6 Lunchtime Strings; Y6 Orff Ensembles; Upper Primary Wind Band; and the Primary Choir.
Upper Primary Drama Production: Many of the Primary Choir Members in Y5 and Y6 are part of this annual Musical, held the first Thursday in February. This is a partnership with the Drama Club.
The Primary Choir support a number of events in the Community, including Spring into the Arts and World Asthma Day celebrations held in the City of Hamilton.
---
Secondary
Full Orchestra Our Full Orchestra is where tradition meets passion. An array of wind, string, and percussion instruments come together, performing a diverse repertoire from classical symphonies to modern cinematic pieces. Join us for the grandest musical journey Warwick Academy offers.
Concert Band Dive into a rich tapestry of sounds with our Concert Band, an ensemble that provides a rewarding opportunity for students to enhance their musicianship across an array of music genres.
Wind Ensemble The Wind Ensemble serves as the springboard into our Concert Band. This group focuses on cultivating foundational skills for wind instruments, providing students with the confidence and technical abilities to play in harmony with others, creating a mesmerizing musical experience.
Lab Jazz Band and Jazz Band Embark on a rhythmic journey with our Lab Jazz Band, the gateway to the more advanced Jazz Band. From classic swing tunes to modern jazz styles, our bands provide students with a profound appreciation for the cool, timeless genre of Jazz, and foster improvisation skills.
Senior Strings and Junior Strings Explore the power of string instruments with our Junior Strings ensemble, the precursor to our Senior Strings. Both groups delve into a wide spectrum of musical styles, allowing students to hone technical skills and nurture their creative expression.
Secondary Choir Become part of a harmonious whole in our Secondary Choir. This ensemble nurtures vocal abilities across classical to contemporary pieces, fostering a sense of unity and teamwork that is as captivating to watch as it is to participate in.
Vocal Classes In our Vocal Classes, students are encouraged to explore their unique voice. With an emphasis on technique and performance, students learn to express themselves through a variety of musical genres and styles.
Steel Pans (Coming Soon) Prepare for the rhythmic magic of our soon-to-be-included Steel Pans ensemble. Immerse yourself in the vibrant and unique music-making experience that brings the entrancing sounds of the Caribbean to Bermuda.
Beyond ensemble participation, our peripatetic program offers private or small group lessons that rotate throughout the school day, ensuring every student has the opportunity to advance their musical skills without disrupting their academic schedules.
ABRSM Music Theory Discover the enchantment of ABRSM Music Theory Grades 1-5 lessons at Warwick Academy. Join us for lunchtime classes on Mondays, Tuesdays, Wednesdays, and Fridays, taught by the talented Mr. Swan and Mr. Roach. Unravel the mysteries of music theory, enhance your musical understanding, and elevate your skills. Enroll now and let the magic of music inspire you!
Secondary Concerts
September 11 Memorial Concert student led featuring various vocalists and instrumentalists.
Winter Concert held on a Thursday night in early December. Features community guest artists and a mix of Junior and Senior ensembles.
Spring Concert held on a Thursday evening in mid-March. Features senior ensembles and soloists along with guest artists from the community.
Summer Concert held on a Thursday evening in mid-June. Features Junior ensembles and soloists along with guest artist from the wider community.
Music at Warwick Academy is not just a subject—it's an experience, an exploration of soul,
and a journey into the cultural landscapes around us. Join our musical family and let's create magical melodies together!