Student Life
The Pastoral System
We believe that the Pastoral Pillar is the spine of our school and that strong positive relationships are key to a successful school. The safety, welfare and happiness of each student is paramount, and our multi-faceted Pastoral System allows for the personalised care of every student. We are committed to continuing our student centred approach leading to developing lifelong learners, global thinkers and successful leaders. Our pastoral philosophy is one of positive discipline. We have six key values which are embedded into our school culture and ethos:
Honesty and Integrity
Respect
Hard working
Open-minded
Empathy and Compassion
Resilience
Primary Pastoral Care
The Pastoral Pillar is the spine of the school from which a happy and safe environment ensues. Our students thrive in an environment where staff uphold and model moral values and where we practise positive discipline. The school was recently recognised and received a Commendation for, "… equal focus on all three pillars - curriculum, pastoral, and co-curricular - to support the students' learning and well-being." (Council for International School, CIS 2020 Accreditation).
Primary use the Quality Circle Time Model (Jenny Moseley, UK) to guide pastoral care and we believe, that supporting our students to develop the character traits necessary to be productive members of the community in which they reside is a partnership between school and home.
Our school community, is expected to reflect the Golden Rules of the Quality Circle Time Model.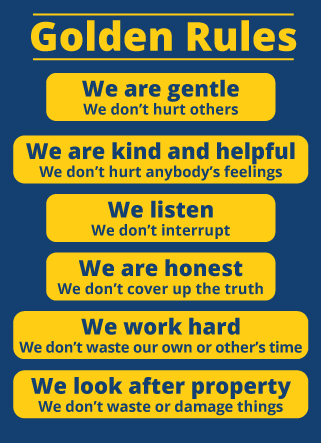 Pastoral care is achieved by developing a positive relationship with our students. Homeroom teachers deliver weekly structured Circle Times to teach the Golden Rules and support the students in forming mutually respectful friendships while enhancing social skills. Students are recognised for keeping the Golden Rules in our weekly whole school assembly and commendations (which equate to House points) are awarded daily for upholding the Golden Rules. On a Friday, one lesson, usually in the afternoon, is a Golden Time lesson. The curriculum is collapsed and students participate in an array of activities, most of which have been suggested by the students themselves, as a reward for upholding the Golden Rules for the week. Golden Time activities may include: games like scooter boards or Dodgeball in the Sports Hall, activities in the STEM room, free swim in our 25m, 6 lane heated swimming pool, or football on one of our playing fields.
Secondary Pastoral Care
In the Secondary School we have three separate Key Stages: Key Stage 3 (Y7-Y9), Key Stage 4 (Y10 & Y11) and Sixth Form (Y12 & Y13). Whilst the pastoral care provided is tailored to the differing needs of each of them we strive to make sure that all students are safe, welcome and ready to learn. A dedicated member of the Senior Management Team leads the pastoral care in each of these teams, and they are supported by both Assistant Heads of Key Stage and the Homeroom tutors. Every year group is led by either the Head or Assistant Head of Key Stage, and they have detailed knowledge of all the students, tracking both their personal and academic development. Each year group in Key Stage 3 and 4 are split into four homerooms. Sixth Form (Y12 and Y13) are split into six homerooms and each homeroom is a combination of both Y12 and Y13 students. Homeroom time is used to develop positive relationships with our students and deliver our pastoral curriculum through a wide range of activities and assemblies. The homeroom tutors communicate regularly with the Head and Assistant Heads of Key Stage and are the link between parents and the school, facilitating communication.
We use weekly assemblies to celebrate student success and to further explore our six key values. Weekly whole school assemblies are complemented by weekly year group or Key Stage assemblies. Through the Honour and Merit system we recognize the many achievements of our students. We have a diverse student body and enjoy celebrating their achievements and sharing their involvement in the community and overseas.
Learning to take responsibility for their own progress and behaviour is a focus for our students and there are clear systems for monitoring behaviour and identifying needs for further intervention. We understand that young people make mistakes and provide the opportunity for them to learn from these and make changes. The Secondary Pastoral team are further supported by the School Counsellors.
Each year group has peer elected Student Council representatives, and this provides students with a voice, encouraging them to take ownership of, and responsibility for their school. They make recommendations for change and organize School Spirit events encouraging pride in their school.